The grown children of the original owners of this mid-century modern rambler called Tim in 2014 after their father Bob Ryan, the original anchor of KSTP-TV news, had passed, and their mother moved to a senior care facility. It was time to start thinking of getting ready, physically and emotionally, to sell the home they grew up in all those years ago. But as both now had long since relocated to Los Angeles several decades ago, the house would serve them well as a place to stay on occasion while coming into town to visit mom. On that initial visit with Tim in 2014, a relationship was forged and the general outlines of a game plan were discussed.
Three years later in February 2017, Betty passed, and it was time to sell the family home. The owners knew they had a great house with good bones, but the inside of the house, naturally, was a bit dated at this point, the basement was in need of some attention after a water line had leaked a few years back, and the owners didn't know where to begin and were completely overwhelmed.
Tim immediately saw that the sellers could turn a big profit on a modest investment and create a nice, refreshed mid-century modern home that a new owner could move right into and appreciate. And that is just what happened, nearly doubling the sellers' $22,000 investment in just 92 days, an ROI of 185%.
For a quick look at the 'before and after' pictures please click here
"If I was forced to provide just one single reason why I love my real estate career, I would have to say it's so that I get the chance to help people with projects just like this," Tim said.

For a first-hand account from Tim on all the details and strategic thinking that went into this successful renovation-sale, scroll down below the photo and read on!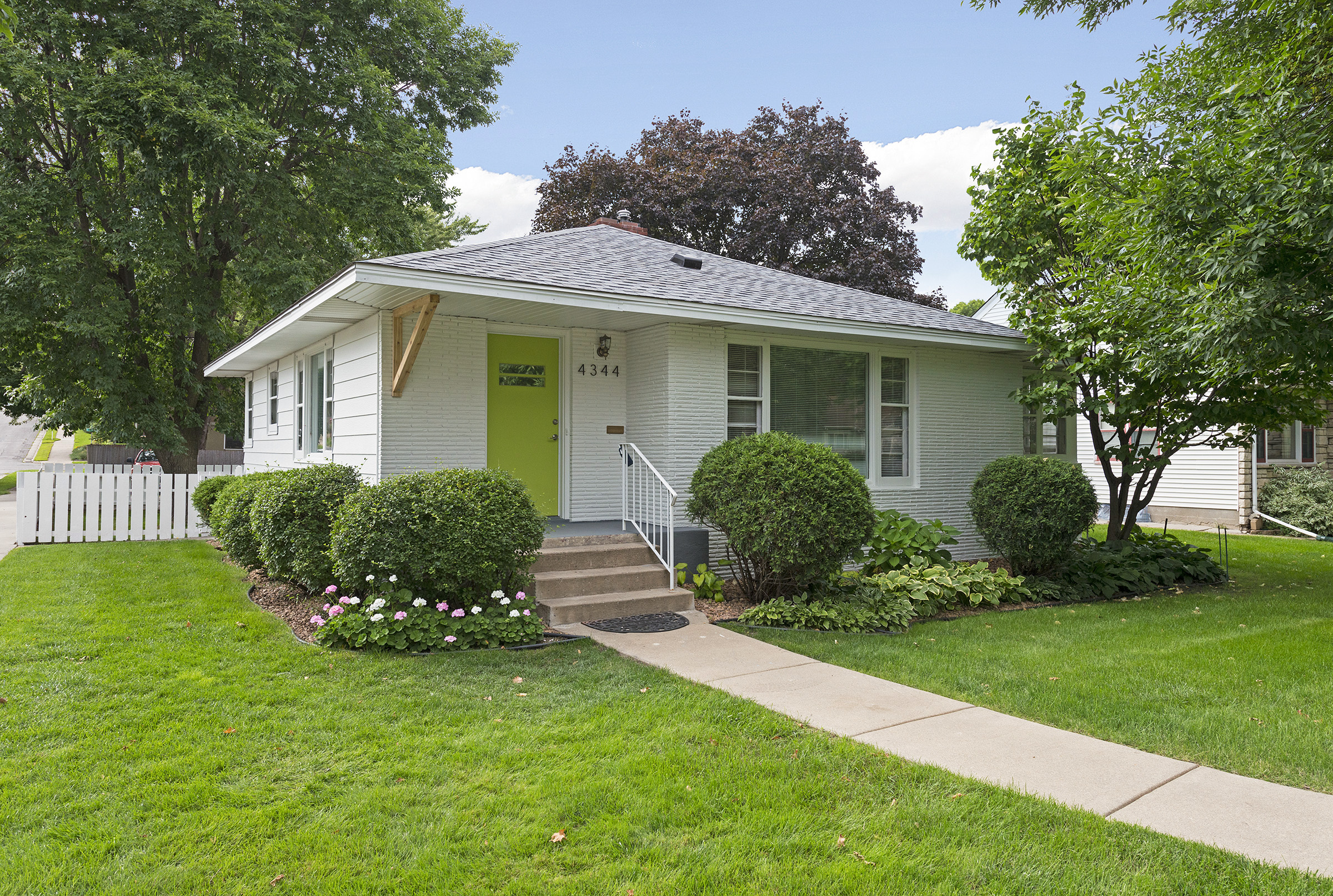 What is it like to help a client with a renovation?
Tim: If I was forced to provide just one single reason why I love my real estate career, I would have to say it's so that I get the chance to do projects just like this. The process of transforming this mid-century rambler was a blast, and there were a lot of winners created along the way. In my business, there are many ways I am able to help clients, and many of those ways were on display during this project. I provided the design plan, ROI analysis, affordable and reliable contractors, staging, and of course marketing and negotiations. And by funding this transformation and following my lead, the sellers made a significant profit–we sold that house for at least. $60,000 more than we would have had we done nothing, maybe more. Meanwhile, a buyer who was looking for quite some time for a move-in ready, beautiful house finally found her new home. And the neighborhood won, too–the sale price will lift the value of other homes in the neighborhood.

How did you decide on which projects to pursue?
Tim: Exactly–whenever the topic of home remodeling comes up, one of the first questions most people have is 'what projects should I do to maximize my investment?' As an industry I believe we do a disservice to consumers by continuously publishing articles on the topic, presented as if there was a legitimate one-size-fits-all approach. I'm sure you've seen these articles. "Decks return x-percent, kitchen renovations x-percent, full bathroom remodels x-percent." I find those kind of articles terribly misleading.

What is true for me, rather, is that every case is different. The list of projects I might recommend on any given property depends on dozens and dozens of factors that most people don't even think about, and it's pretty hard to come up with the right answers if the right questions are missing. The obvious ones, to name just a few, are price point, location and market dynamics, and the truth is, many times I see others read just these three incorrectly, and the execution of the attempted renovation or facelift suffers for it. But then you add on the infinite ways that different aspects of the home relate to one another, and it's enough to leave most people in knots.
Sussing out these various dynamics, by the way, is exactly the area where newbies to the game who try their hand at 'flipping houses' usually fall down. They just don't understand buyers the way a full-time, experienced real estate agent does. That, and they often overpay.

How did these dynamics present at the Ryans'?
Tim: Well, there were a lot of projects that we could have done. One of the four plans I presented the sellers would have addressed them all. And had we pursued that plan, we could have sold the house for $330,000+. But the budget for that amount of work was simply higher than what the sellers were comfortable investing. At the end of the day, that plan would have made them more net profit, but it would have been a lot lower ROI and theoretically was riskier, although I was very confident the market would quickly and happily scoop that house up, and one could argue that fully articulated version of the renovated final product would have been the one most likely to sell for way over asking price, in multiple offers.
So you had to prioritize?
Tim: Yes. We had a lot of things we could have improved, but couldn't tackle them all. For starters, something absolutely had to be done with the curb appeal. The exterior was an outdated dark brick with a very dated, ornate column and railing. Creating a different vibe from the curb was the top priority because had we left it, the house would always feel like a 'grandma house' no matter what was done inside. Another way to look at it: even if there were some 'dated' aspects inside, if we could modernize the exterior, we would essentially be re-setting the expectation of how this house could handsomely fit into 2017 and beyond. The all-white palette and new cedar beam play off the modern farmhouse trend. The new front door color has been one that I've used on several recent listings with great reception and expresses youth, exuberance, a subtle sense of harmony with the environment and unabashed optimism.
If the budget had been halved, what would you have tackled next?
Tim: Halving the budget to $10,000 was actually one of the options I proposed to the sellers. We even had a name for it: "Clean slate with curb appeal." The idea was to do the exterior for the reasons I've already described, and use the rest of the budget to target buyers with a willingness to do some light renovations, while illustrating to them that this house had a lot of easy upside potential. There was very old carpet on the main floor covering up very nice hardwood floors. The first thing would have been to remove that carpet and expose the floors. There would be no budget for refinishing them, but at least the target market could see they were there and intact. And there were some unsightly, super-old ceiling stains that would have been foolish not to repair–big eyesores. And there were a few other maintenance things we could have addressed, but that would have been about all.
So essentially this plan would have at least helped those buyers that had a little bit of vision to see what this house could become. But that version of this house may have only sold for around $250,000 at the time, in my estimation. The extra $12,000 the sellers were willing to invest probably brought them another $35,000+ in sales price, and surely helped make the sale happen almost immediately upon hitting the market.
How did you choose to allocate that additional $12,000?
Well the floors were refinished, that's for sure. And they turned out gorgeous. And, some of the rooms were in need of obvious paint, so we painted the whole upper level. Floors and walls are almost always a first place to start, and by removing the carpet and refinishing the floors and painting the entire interior, we certainly made a huge impact and got a ton of bang for the sellers' buck. Next up was upgrading the basement with new carpet and a new hearth, so we could list the house with much higher finished square footage and showcase the basement as a cozy living space of its own.
We still had some big obstacles to overcome with the kitchen and bathroom–very dated and a little bit in disrepair. Doing nothing would have held the sale price back a lot. But gutting the kitchen was not in the budget. Still, something had to be done to make it more acceptable. The appliances were old and the cabinets themselves were quite old as well, and most would not champion the layout. But with the budget, there was no way we could replace appliances and counters or cabinets.
I felt strongly, however, that we could do a few inexpensive things to make a big difference.It wasn't easy but after a lot of thought I was able to devise an approach that worked that kept costs down. Knowledge of savvy and inexpensive kitchen and bath updates are critical.
The most offensive aspect of the kitchen was the cabinets–they had a faded, tired paint job in a totally dated peach-tone. I felt that if we applied a fresh coat of enamel and steered the cabinet color to a strong, very on-trend color, it would make a statement and show buyers that the kitchen was in fact pretty cool or at least had some real potential. Late in the project we debated spending a little to update the kitchen floors, and I chose an affordable luxury vinyl tile in a wood-plank style, durable and inexpensive to have installed. They made a big difference, especially in the photographs. In the end, the gray enamel on the cabinets, new flooring and fresh paint color on the walls cost barely $2,500 and had a gigantic impact. We made a few similar upgrades in the bathroom and updated hardware and several light fixtures throughout the home. The sputnik-style light over the dining area was very well received and further enhance the home's renewed mid-Century modern cred.
What did you cut out to keep the project under budget?
Tim: Even at or near the final budget of roughly $20,000, some items could have been dropped from the list, others added… so many possibilities presented themselves. For example, we chose inexpensive vinyl blinds vs. spending $500 to $1200 more for more premium blinds. Would that investment have sold the house any faster or for more money? Keep in mind that we did get 5 offers and sold it in 5 days, so I doubt that would have driven more value for the seller. There is a reason virtually no Parade of Homes model homes have blinds. It's costly, and the homes show better with light pouring through the windows. My assertion was that with gorgeous newly finished hardwood floors, fresh paint throughout and good strategic staging, the question of window treatments would become irrelevant to buyers–they would likely not even notice they were absent, and even if they did, they probably would not care.


Why stage when you could have spent that on appliances?
Tim: Great question. After all the work was done, I had one of my staging partners stage the living room and dining area, kitchen, bathroom and master bedroom because there was, despite the updates, a certain emotional energy missing. And photographs of empty rooms leave a lot to be desired. Imagine what the photographs would look like if the house had been vacant, compared to what it looks like when staged. There is no way that people would have been able to see how huge the living room or that dining area are. And the master bedroom, same thing. Through a combination of selection finishes and staging, I was able to target and trigger an emotional connection to the home among a specific segment of the market.

When did you know it was going to be a success?
Tim: I had zero doubt from the beginning that we would have a great outcome for all parties involved. That said, I purposely mad some design decisions that I knew were geared to a younger aesthetic because I felt that was our most likely buyer with the most price elasticity. During the project I was checking on the work periodically and bumping into some of the older neighbors who were expressing some displeasure with a few of the design elements. I just asked them to trust that I knew what I was doing and wait until everything was completed before passing judgment. What was so cool was that those neighbors absolutely couldn't believe how it all came together. Not only did they love it, they couldn't believe I was able to do that with that house as they had previously known it. At one point we had three parties in the house at the open at the same time who all ended up writing an offer. I'm not sure that's ever happened to me.
This is just a brief glimpse into all that goes into executing a transformation like this. It really is like putting a puzzle together. If you or anyone you know would like to learn more about how this project came together, or has a chance to complete a puzzle like this and would like Tim's assistance, please email Tim at tsipprell@gmail.com or give a call to 612.327.7657.
4344 17th Avenue South
LIST PRICE: $279,900
SALE PRICE: $287,500
MARKET TIME: 5 days
sold in September 2017
For complete photos and specs of the final product please click here